Black Ash participates in the multi-county VIP League (Very Informal Pistol League).  The league was established to be a fun shooting experience for new and experienced shooters.  We use modified rules for NRA Bullseye shooting to keep things lightly competitive and a lot of fun.  Shooters can shoot in either the rimfire class, centerfire class or both.  We shoot once a month starting in April at Black Ash.  The league ends in September with all teams getting together for the only joint competition of the year.
We invite any member, including ladies and juniors, to join our team.  Shooters must provide their own handgun(s) and ammunition.   The Club Team shoots, starting this year, are the 2nd Tuesday of the month, starting April 12th 2016 with practice starting at 4:30 and shooting for score around 5:00.  We may also have Saturday makeup days depending on how Tuesday evenings work out for everyone.
Email vipl@blackashsportsman.org for more information.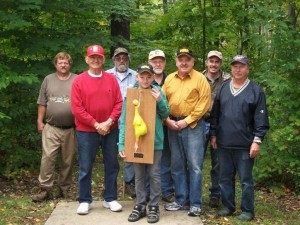 League Scores can be found at the Springs Rod & Gun Club Site
2016 John Holt Memorial Shoot Scores
Black Ash 2016 Scores
April   May   June   July   Aug
2015 John Holt Memorial Shoot Scores
Black Ash 2015 Scores
April     May      June     July     Aug
Black Ash 2014 Scores
April      May     June    July     Aug
Black Ash 2013 Team Scores
April       May        June        July         Aug
Black Ash 2012 Team Scores
April      May    June       July       Aug
Black Ash 2011Team Scores