Happenings 
Recently Tom Mattis asked Bill Wentworth to write about what we believe to be the first club sponsored activity:   Black Ash Little League.  Click to read Bill's write up on it.   Thanks to Bill for sharing this with us.
The rifle range will be open to non-members for deer rifle sight in days on the following dates :
NOVEMBER 16th & 17th, 23rd & 24th, 29th & 30th and Dec 1st.
Hours
Friday and Saturdays 8am to 4pm and Sundays 9 m to 4pm
Cost is $3 per shooter for non-members
The new Pistol Range open for members !!!   Thanks to everyone and especially Carl and Ed for all the work on the new 50ft Pistol range!  It's a really nice range and is another great benefit for being a member.   Thanks to everyone involved !!!
Some of you might already be aware of a local TV show called "Crawford County  Outdoors"  It's produced by one of members Duane Koller and shown on Armstrong Cable TV.  Duane recently did two segments on Black Ash Sportsman Club.   One on the Adventure Trail and another on Skeet Shooting.  Be sure the click on the links and enjoy.  Thanks Duane !!
The Erie National Wildlife Refuge (ENWR) and The Friends of the ENWR are having their 14th Biennial amateur nature photo contest !!!.  The contest is to promote  and raise the awareness of the Refuge.  The Friends of the ENWR is a  non-profit group not unlike Black Ash Sportsman Inc. dedicated to protecting and improving the natural habitat needed for the wide variety of plants and animals that populate the Refuge grounds as well as providing public recreation and environmental education opportunities. The ENWR is great Federal Facility in our backyard and may not be truly appreciated by the citizens of NW PA.  So help raise awareness and support a common cause,  grab your camera and click to download the Photo Contest Flyer with more information.
Information about The Friends of the ENWR and ENWR Refuge.
As all the members know, our Black Ash Sportsman Club is now officially a members only club.  What does this mean ?  Well for starters in means we are getting quite a few new members each month.  It's been very exciting to see so may new faces at the club meetings and to see the renewed enthusiasm for the club.   Second it's a reminder that it is OUR club and we all must work together to make sure ALL activities and events are safe and welcoming.   We must also all continue to welcome new members and to remember that we are the ambassadors of the things we love, hunting, fishing, shooting, conservation, the outdoors  In these trying times it has never been more important to introduce folks who live in an increasing "virtual" world back to the outdoors.
At the March monthly meeting the club Directors announced the Sportsman of the Year Award recipient for 2011 is Harold Smith and recipient for 2012 is Carl Pelino.  The award is presented annually by the Board of Directors to a member who has provided years of dedicated service to the Club and whose service stands above that normally contributed by its members.  Hats off to both Harold and Carl for all of their tireless work supporting the club !!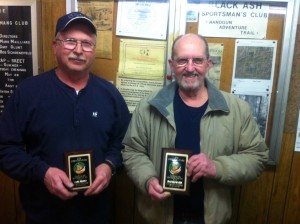 The schedules for the upcoming years events are posted on the Calendar.  If see anything we missed or if you have any ideas for the Web site please drop us an email. web@blackashsportsman.org