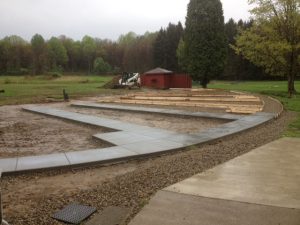 Note:
 Beginning next week,
May 30
, skeet practice will move to Tuesday evenings at
6pm
.  Practice will continue to be on Tuesdays after the Memorial Day holiday.
This is a great opportunity to learn the game or hone your skills!
The Black Ash Trap League will continue to meet on Mondays beginning at
5pm
.
MAPLEWOOD TRAP TEAM –
This is the first season for the Maplewood HS Trap Team, which is part of the
Pennsylvania State High School Clay Target League
.  The team will use our club facilities, and all of the coaches and volunteers are Black Ash members.  There are over 20 students registered for the team, both boys and girls.  Black Ash is accepting monetary and material donations to this new program.  Many of the students have never shot trap before, and could use gently used vests, side bags, glasses, and ear protection.  We would keep these at the club for program use.  Donations can be delivered at any of the above activities, or left in the clubhouse sun room clearly marked as a donation.  Thank you to everyone for supporting this program.  We've been impressed with the amount of student interest in its first season, and we hope it continues!
————————————————————————————————————-
EVERY SUNDAY  – the Maplewood Trap Team will shoot beginning at 3 pm.  During this time, the .22 pistol course and golf course on the Handgun Adventure Trail will be closed for practice rounds.
MONDAY, MAY 1 – BLACK ASH TRAP LEAGUE BEGINS – 5:00 pm –  This league will last for 16 weeks and will be an 800 target league with the ability to shoot ahead or catch up as needed.  All targets will be shot from the 16 yard line.  Trap shooting returns to Black Ash after a long absence!  Shooting will be every Monday.
JUNE 17th 9am – 4pm – Hunter Trapper Ed.  Only one day this year.  Signup on line.
JUNE 24th -Youth Field Days – It is sponsored by Delta Waterfowl. We will be running the .22 rifle station again this year.
JULY 29th – Summer Work Day, Rain date is August 1st
JULY 30th 9am – 3pm – Founders Day shoot
OCTOBER 14, 2017  – Black Ash Sportsman Club  will host our 5th annual Youth Pheasant Hunt.
 ———————————————————————————————————–
THE ADVENTURE TRAIL IS OPEN –
The Handgun Adventure Trail is open to members and their guests for practice rounds.  Fee is $1 per round.  Targets are up for the 22 rifle course and centerfire pistol course only.  Golf and 22 handgun will probably not be up for practice until after the first match.  Please follow all course rules for safety.  Remember, a rifle or handgun with the magazine in place and rounds in the magazine is considered loaded.  The only place that a loaded magazine should be in place is at a shooting station, not while walking between stations
.  
CLUB MEETINGS –
The monthly Club meetings are the 2nd Thursday of each month at 7:30 pm. They are held at the club house.  Everyone is welcome, so come out and see what's going on.  

 

Click here for directions to the club

. 
RIFLE RANGE – Open as always to members and their guests. Please deposit guest range fees before shooting. Please follow all of our range rules.
We have been experiencing some minor problems with shooters here and ask for cooperation. PLEASE DO NOT RAISE THE TARGETS ABOVE THE LEVEL WHERE THEY ARE SET BY THE RANGE MAINTENANCE CREW. WE ARE TRYING TO KEEP THE CABLE PROTECTED FROM ERRANT SHOTS AND HAVE RAISED THE CABLE, WE DID NOT LOWER THE TARGETS. DO NOT HANG ANYTHING ELSE FROM THE CABLE AS A TARGET (ONLY PAPER TARGETS PERMITTED) AND PLEASE CENTER YOUR TARGET ON THE BACKBOARD, THIS WILL HELP THEM LAST LONGER.
The schedules for the upcoming years events are posted on the Calendar.  If see anything we missed or if you have any ideas for the Web site please drop us an email. web@blackashsportsman.org